Intake Screening and Assessment
Intake Interviews with Intersect are voluntary and will help us assess what services you need, how Intersect and other community agencies can support your family and help us better understand your wishes and priorities.
---
There are three ways to complete an intake appointment at Intersect:
Walk in Services: If your child is ages 6-18 you can use our Walk in Clinic which runs Tuesdays and Thursdays from 9:00am to 2:30pm providing all day intake support.
Booked Appointments: There are a limited number of booked intake appointments each month. If there is a reason you cannot attend the walk in clinic, please call our office at 250-562-6639 and explain these challenges so we can find a way to accommodate your needs. Appointments must be booked for children 0-5 years.
Referral: Having another service provider or your doctor send us a referral signed by the child's legal guardian.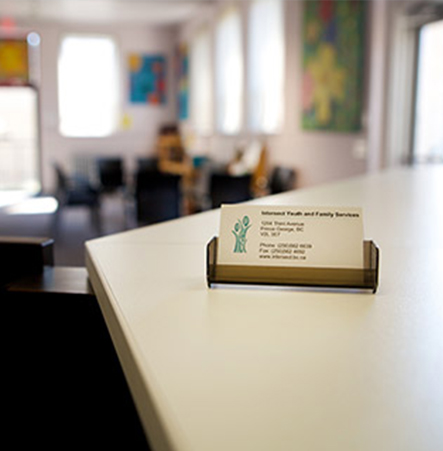 Things to consider prior to your intake:
The intake assessment and interview can take 1.5 to 2 hours.
We do not have childcare on site so please make arrangements for any other children.
For booked appointments, please arrive 15 minutes prior to your appointment time to complete the intake forms.
You can call and ask to speak to the intake worker if you have any questions about intakes at Intersect.
Walk In Intake Service
The Walk In Intake Service is available for children, youth, and families that reside in the Prince George geographic area. Children and Youth between the ages of 0-19 years old may access Mental Health support with an Intake Interview. The Intake Interview provides opportunity to explore:
Mental Health Concerns
Coping Strategies
Strengths for the Family and Youth or Child
Individual Support
Family Support
Group opportunities
Professional Consultation
Community supports and consultation
---
The purpose of the Intake Interview is to ensure a thorough understanding of your situation and concerns.
An Intake Worker will interview the child or youth, and their parent, guardian or caregivers, whichever is possible and appropriate. The Intake Worker may interview members of the family, separately or together, whichever is most comfortable and appropriate for the clients. The initial Intake Interview takes approximately 1-1.5 hours. There are no child minding services available during the interview.
After the completions of your assessment/screening interview, your information will be discussed at the next intake assignment meetings. A Supervisor will confirm the priority level of service for each client and the service plan developed with your intake worker. All families who are accepted for service will be assigned a case manager who will become your contact person within the agency. A letter will be sent to you giving your case manager's name. Unfortunately, due to the high demand for our services, therapy may not always start immediately. However, if your situation changes before you have started therapy, please contact your case manager for assistance.
Mental Health services, Intake and Support are accessed voluntarily. Clients and their family's must seek support without the pressure from others and without causing duress for themselves.
---
Referrals
Intersect Youth & Family Services Society has an open referral system.
Referrals may come from: self-referrals; medical; School District; Ministry for Children and Family Development; and community agencies and service providers among others.
Children and youth with developmental delays that are not eligible for services through Dual Diagnosis, Child Development Centre or Community Living Services will be assessed for services.
The primary client must be a child or youth under the age of 19 years with identifiable mental health problems. Adults and family members with identifiable mental health problems may be referred out to appropriate services.
With your consent, the referral source will be notified and advised of the acceptance of the referral and the type of service being offered to the client. Referrals that do not meet the mandate of the agency will be referred to appropriate community service.
**Referral forms for third party referrals can be obtained by calling Intersect Youth & Family Services Society at 250-562-6639.
Referrals will be accepted by telephone, in-person, facsimile (250-562-4692) or mail.
Your donations have a direct impact on the youth, children and families of northern BC.
Learn more about how you can help or make a donation.