View all of our most recent job opportunities.
---
Children or Youth Mental Health Therapist
Permanent, Full time
Come join the dynamic team at Intersect Youth and Family Services in the hub to the North, Prince George BC. We are actively recruiting two permanent, full time Mental Health Therapists to join our amazing team. One position will work with our littles (children ages 3-12 years) and the other position will work with our youth (ages 12-18 years). We want the right person for our clients and for our team, so our start date is negotiable.
What are we looking for in you?
A healthy relationship with yourself and others including great communication skills and the ability to have some laughs. We like fun!
Someone who enjoys providing individual and group counselling for children, youth and their families, who is ethical and is eager to learn.
A passion for being part of the team to learn from and share your knowledge with.
You have a Masters level degree in Social Work, Child & Youth Care, Education, Counselling or other human/social science degree (or you are close to finishing).
You've worked with children, youth, and their families in a supportive role, through times of stress and in a therapeutic way.
A driver's license and a drivers abstract that shows you can safely drive our clients and our work vehicles.
That our clients will be safe in your care by completing a criminal record and vulnerable persons check.
What can you expect from us?
An eclectic team of clinicians happy to support you, share their knowledge and expertise and have some fun with you too.
A leadership team committed to supporting you and helping you develop your practice through a robust orientation, weekly clinical supervision and monthly group supervision including case presentations from your team.
An agency committed to your professional development though agency paid training in CBT, DBT, EFFT etc. and a personal annual training budget for the skills you are interested in developing.
A consistent Monday-Friday, 9:00-5:00 work schedule; you can also bank flex time though for those days you want to take the afternoon off. Occasionally we may ask you to work in the evening to deliver a group, but you get to pick the day of the week/time that works best for you.
Full extended health and dental package through Pacific Blue Cross for you and your family including a confidential Employee Assistance Plan.
Employer RRSP plan with the option of withdrawing funds at a later date to purchase your first home, fund education etc.
A competitive wage with wage increases every year. Our 6-step wage grid starts at $32.10 hourly but depending on your experience, you could start at a higher step up to $40.68 hourly.
You get paid sick time, paid vacation time, paid mental health time, paid family responsibility time, paid personal training time on top of having flex banks.
Not from Prince George, well move here!! Why you ask:
Prince George has been named the second cheapest place to live in BC. You can buy a house (seriously, check MLS!!), then take a short drive from work to your house or wherever else you want to go, you don't get stuck in traffic in Prince George.
Come play in our backyard. There are a ton of recreational opportunities in the winter and the summer-kayaking, paddleboarding, snowshoeing, skiing is all within a 20-minute drive.
Are you a foodie? There are so many delicious local restaurants to try.
Loves arts and culture? We have plays, the symphony, the art gallery etc.
Don't believe me, learn about Prince George at https://tourismpg.com/
And if that isn't enough, we have a relocation allowance to support your move to our city.
Intersect values diversity. If you need assistance to accommodate a disability, you may request an accommodation at any time. If you have any questions at all about our team, the work we do, the fun we have, the benefits we get, our wages etc, please email me, Shannon at executivedirector@intersect.bc.ca.
---
To apply for this exciting opportunity you can:
Resumes will be reviewed as they are received – we will only contact those shortlisted for an interview. This posting will remain open on our website until the position is filled.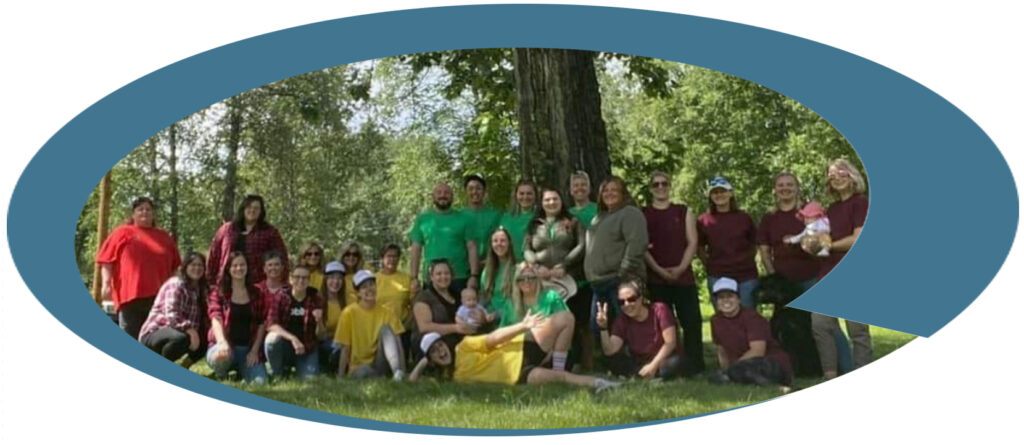 Your future team playing ridiculous games in the quest for the Lynn Cup.
Your donations have a direct impact on the youth, children and families of northern BC.
Learn more about how you can help or make a donation.